SARS-CoV-2 Antigen Rapid Test Kit (Colloidal gold Immunoassay)
| | |
| --- | --- |
| Size: | |
| Qty: | |
| Price: | Inquire |
SARS-CoV-2 Antigen Rapid Test Kit
Certified with ISO 13485, CE and other documents
Suitable for: point-of-care use, community, remote regions
Sensitivity: 96.330% (95%CI: 90.870%, 98.991%)
Specificity: 99.569% (95%CI: 97.622%, 99.989%)
Features of Rapid Antigen Test Kit for SARS-CoV-2
Easier: No special equipment needed; Easy to use; Intuitive visual interpretation.
Rapid: Results in 10 minutes.
Accurate: Results were validated by PCR and Clinical diagnosis.
Diversity: Works with oropharyngeal swab, nasal swab and nasopharyngeal swab.
How Does the SARS-CoV-2 Antigen Rapid Test Kit (GICA) Work?
1. Bring the pouch to room temperature before use.
2. Take out the cassette, put it on a horizontal table.
3. Add 3 drops of the processed sample vertically into the sample well and start the timer.
4. Observe the result after 10 minutes, the result is valid within 30 minutes, read results after 30 minutes is invalid.
Testing Results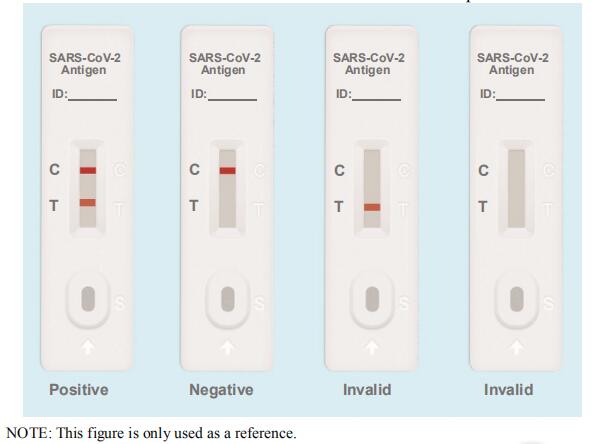 Positive: Both the detection line (T line) and the quality control line (C line) appear colors.
Negative: The test line (T line) does not appear color, only the quality control line (C line) appears color.
Invalid: The quality control line (C line) does not appear color, which means that the test is invalid and the test should be repeated.
FAQs
Kit Components & Storage
Materials supplied:
1.Test reagent: 1 test/pouch, each test consists of a test cassette and a desiccant. The cassette is composed of a test strip and a test strip shell. The test strip consists of a sample pad and a colloidal gold bonding pad (sprayed with colloid Gold-labeled SARS-CoV-2 monoclonal antibody I), nitrocellulose membrane (NC membrane) (the detection area is coated with SARS-CoV-2 monoclonal antibody II (T line) and goat anti- Mouse IgG (C line)), liner and absorbent pad.
2. Desiccant: 1 piece/pouch, silica gel.
3. Swab: 25 pieces/pack.
4. Sample treatment solution: 20 mL/bottle.
5. Sampling tube: 25 pieces/pack.
Storage and Stability:
The test reagent is stored at 2~30 ℃, and the validity period is tentatively set for 18 months.
See the label for the production date and expiration date.
VIEW MORE ↓
Limitations of COVID-19 IgM/IgG Rapid Test Kit
1.This kit is a qualitative test for in vitro auxiliary diagnosis.
2. Due to methodological limitations, the sensitivity of this kit is lower than that of PCR. Therefore, more attention should be paid to the negative results of this experiment, and a comprehensive judgment should be combined with other test results. It is recommended that the suspected results be supplemented with nucleic acid testing or virus isolation and culture in vitro for confirmation.
3. Unreasonable sampling, transportation and handling, or low virus content in the sample will lead to false negative results.
4. The test results of this reagent are for clinical reference only and cannot be used as the only basis for clinical diagnosis. The tester should conduct a comprehensive evaluation based on the patient's clinical manifestations and other laboratory test results.