SARS-CoV-2 Antibodies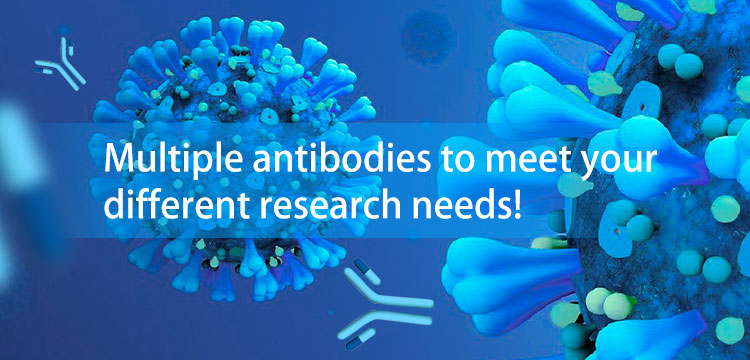 Why Should You Choose Elabscience® 2019-nCoV Antibodies?
High antigen purity

Stable quality / High purity / Low endotoxin.
High antibody specificity

Antibodies were obtained by antigen affinity purification.
Multiple antibodies to meet your different research

Spike Antibodies/ Nucleocapsid protein Antibodies / Neutralizing Antibodies/ACE2 Antibodies.
Structural Protein Antibody
Non-Structural Protein Antibody
The recently sequenced genomes of SARS-CoV-2 strains combined with the comparative analysis of the SARS-CoV genome organization and transcription allowed us to construct a tentative list of gene products. It was suggested that SARS-CoV-2 had 16 predicted non-structural proteins (referred to nsp1-nsp16) constituting polyproteins pp1a and pp1ab, which were translated from ORF1a and ORF1ab of the virus genome.
Neutralizing Antibodies
Protein S (PROS1) is glycoprotein and expressed in many cell types supporting its reported involvement in multiple biological processes that include coagulation, apoptosis, cancer development and progression, and the innate immune response. Known receptors bind S1 are ACE2, angiotensin-converting enzyme 2, DPP4, CEACAM etc.. The expriment shows that Anti-2019-nCoV S Neutralizing Antibodies can block Human ACE-2 Protein and 2019-nCoV S-trimer Protein interaction.
IgG / IgM Postive Control
The product is intended for in vitro diagnostic use in the quality control of serum on clinical chemistry and immunoassay systems. The assayed liquid protein controls are for the control of accuracy. For TRFIA assay, antibody can be diluted to 1:50-1:100, the dilution rate should be adjusted based on different testing method.
Receptor Antibodies
Scientists are racing to learn the secrets of severe acute respiratory syndrome–coronavirus 2 (SARS-CoV-2), which is the cause of the pandemic disease COVID-19. The first step in viral entry is the binding of the viral trimeric spike protein to the human receptor angiotensin-converting enzyme 2 (ACE2).Now new report shows that NRP1 plays an important way when COVID-19 infected body.
Category
| Cat. No. | Product Name | Applications |
| --- | --- | --- |
If you have any question about the products, please contact us by
clicking the message button near the home button of your phone
, we will reply you in 12 hours.